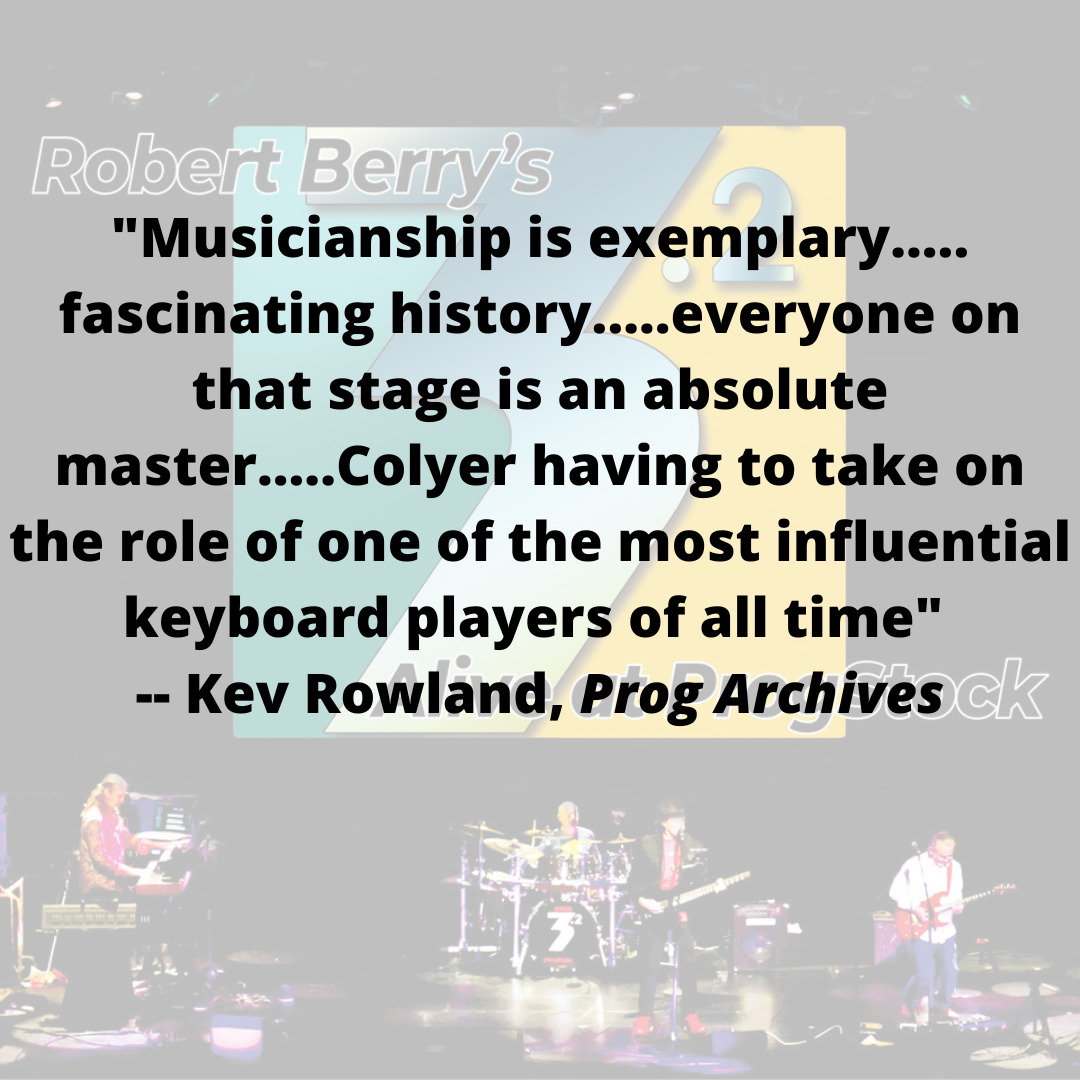 THANK YOU SO MUCH, Kev Rowland, for this FIVE-STAR REVIEW of Robert Berry's 3.2 Band "Alive at ProgStock" CD/DVD concert package!  Here is the full review below:
⭐⭐⭐⭐⭐ – 5 STARS – There is no doubt that one of the most interesting "new" artists to come out in the progressive scene in the last few years has been 3, who in 1988 released an incredible debut album. At the time it was Keith Emerson, Carl Palmer and Robert Berry, and as well as releasing the album they toured, with Paul Keller providing guitar at the live shows. It was many years later that Keith and Robert talked about producing a new 3 album and started writing together before Keith's untimely death. However, multi-instrumentalist Berry completed the album and 'The Rules Have Changed' was released as being by 3.2 in 2018, just 30 years after the debut, and was a resounding success. There was still one song left from the sessions, so Berry then set to and recorded 'Third Impression', creating a complete album in the way he thought Emerson would approve of.
Having undertaken all this work, the question started being made about whether it was also time to create a band to go out on the road and play progressive music from throughout Robert's career. On this album, as well as Robert (bass, acoustic guitar. lead vocals) there is Paul Keller from 3 on lead guitar and vocals, Andrew Colyer (Circuline) on keyboards and vocals with Jimmy Keegan (Spock's Beard), drums, vocals. Instead of playing music just from the 3/3.2 releases, we get "No One Else To Blame" which was written for GTR, and then appeared on Robert's excellent 1993 release 'Pilgrimage To A Point', as well as some of the heavily rearranged covers which Robert was involved with in the 90's tribute albums which were very popular at the time. There is also some ELP material, which Robert and Paul originally played live in 3 back in the day alongside Emerson and Palmer.
What makes this such a fascinating album is that while the music and musicianship is exemplary, as would be expected from all those involved, is that Robert often provides context before each song so that those in the audience unaware of the history is able to understand and become involved. I have followed Robert's career since the debut 3 album all those years ago, and I was learning new things as well. As for those involved in this project, everyone on that stage is an absolute master, which means they can not only cope with the extremely complex and complicated scores but take them to new levels. With both Emerson and Lake no longer with us, this is the closest anyone can get to the original band, and we should all have sympathy with Colyer for having to take on the role of one of the most influential keyboard players of all time.
They have also taken the music and had fun with it, with some of the arrangements being close to the originals and others taken in totally different directions, which certainly makes it interesting to listen to. A great example of this is their version of "Deck The Halls", played in the manner of Rush, with Keegan on lead vocals. Undoubtedly this is now my new favourite Christmas song, as it is totally irreverent, tongue in cheek, and a load of fun. Of course, they then follow it up with "Watcher of the Skies", which takes us on a whole new tangent. The night of 15 wonderful songs ends with "Karn Evil 9 (1st Impression, Part 1)", who could wish for more?
For those who feel the two compact discs containing the concert are not enough will be pleased to know that it is also available with a DVD, so one can watch this incredible band blast through some absolute classics. Now I wonder when the next studio album is coming out?
Here's the direct link to the Prog Archives Review:  http://www.progarchives.com/Review.asp?id=2771443