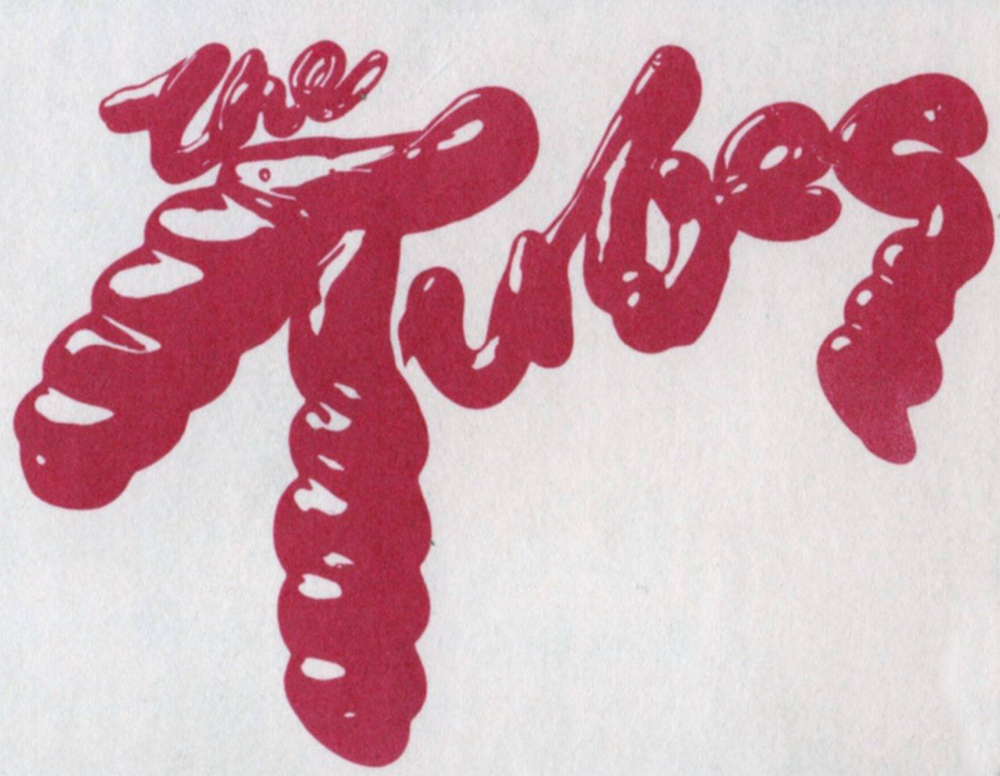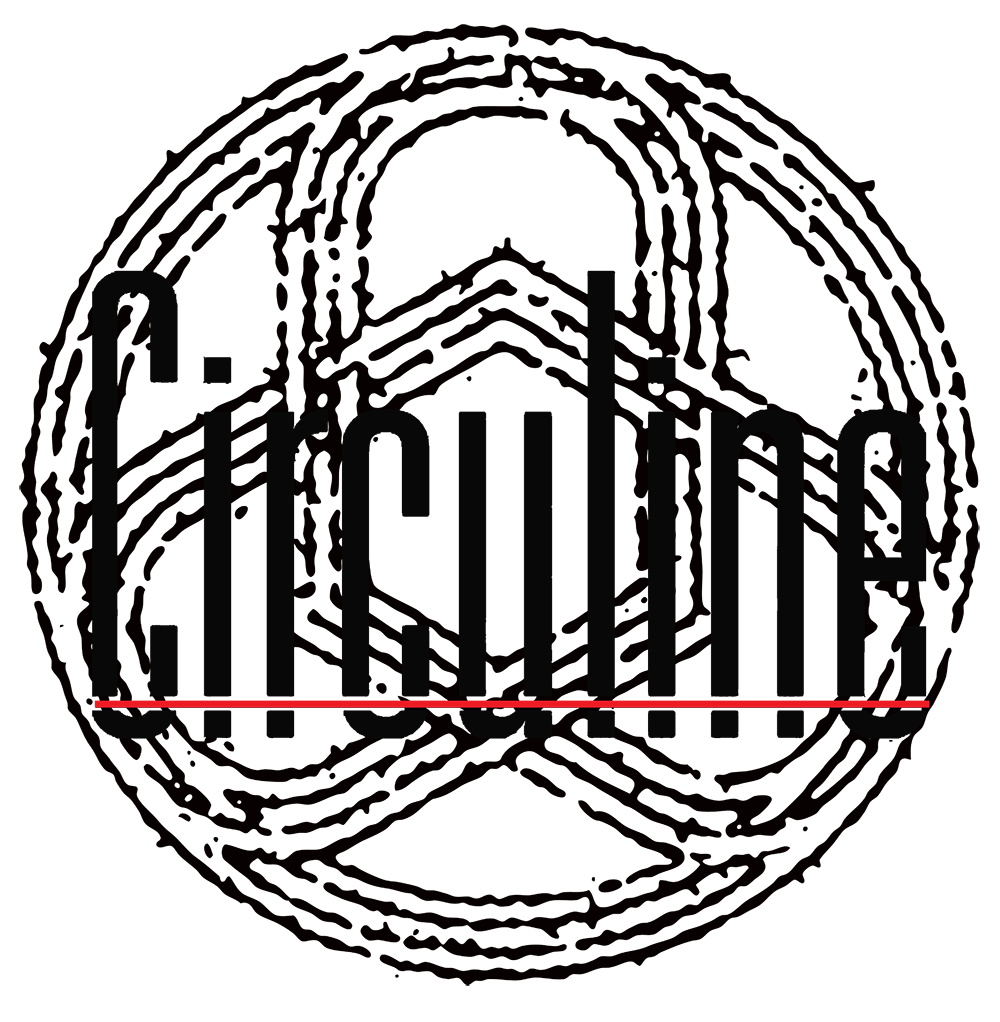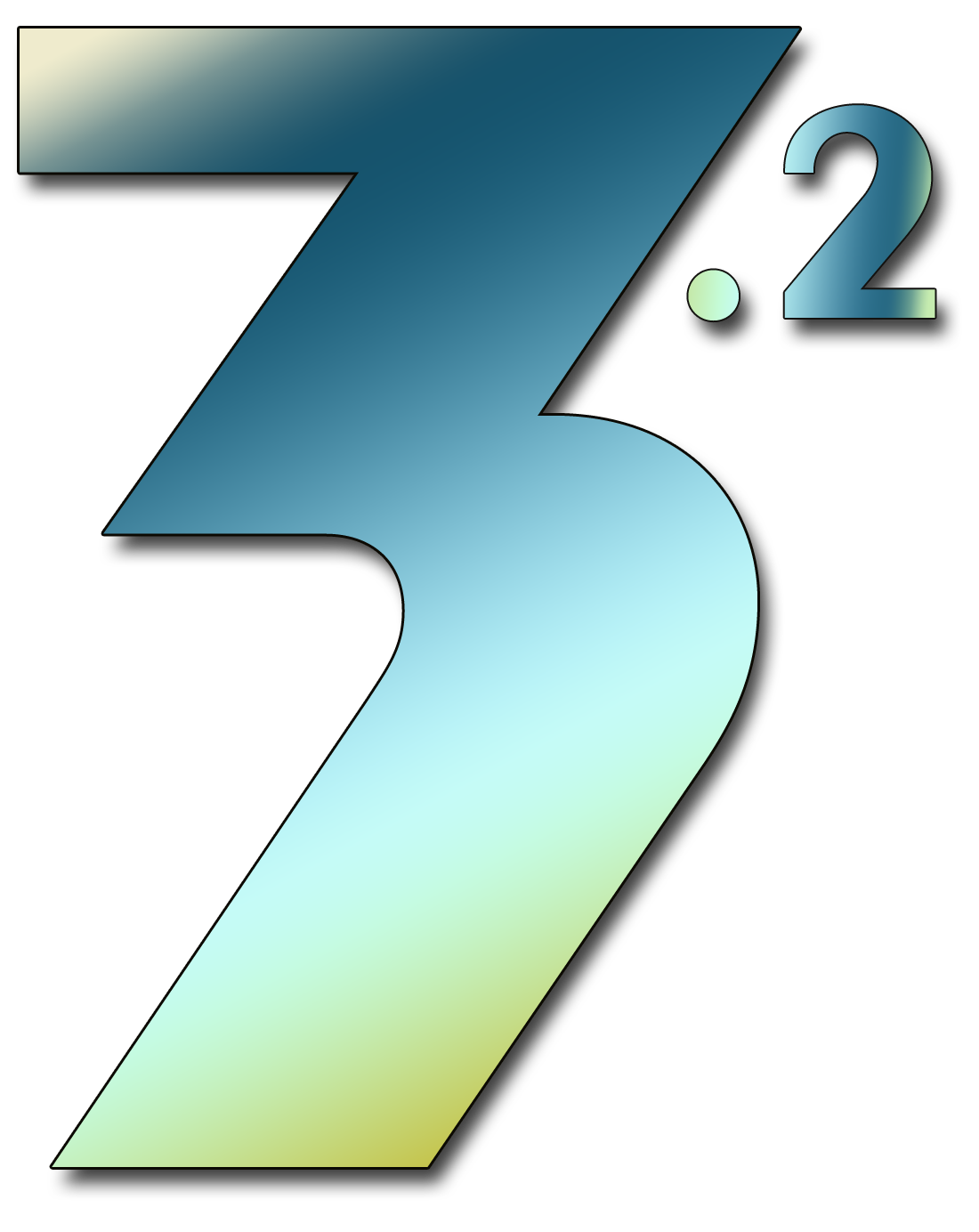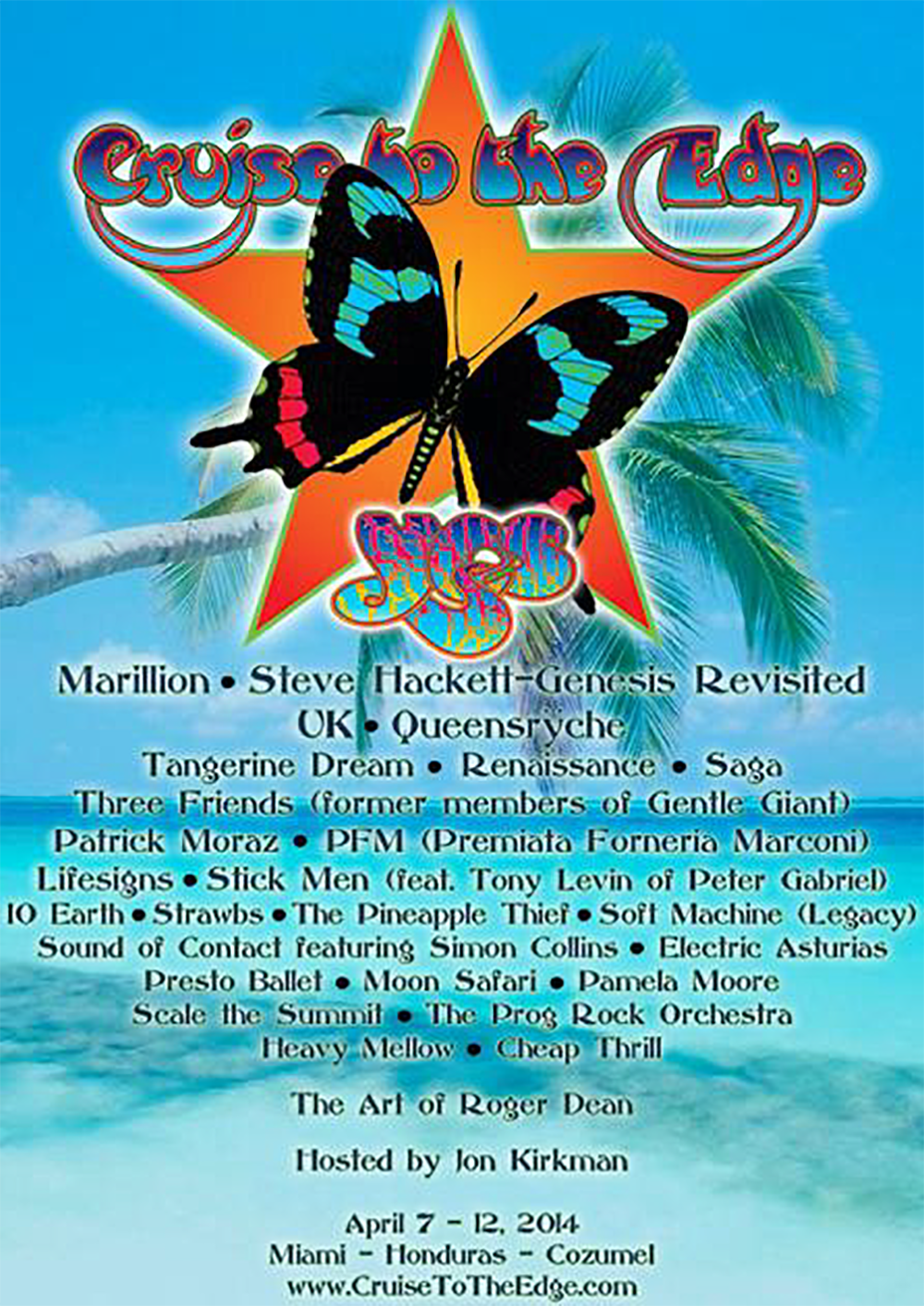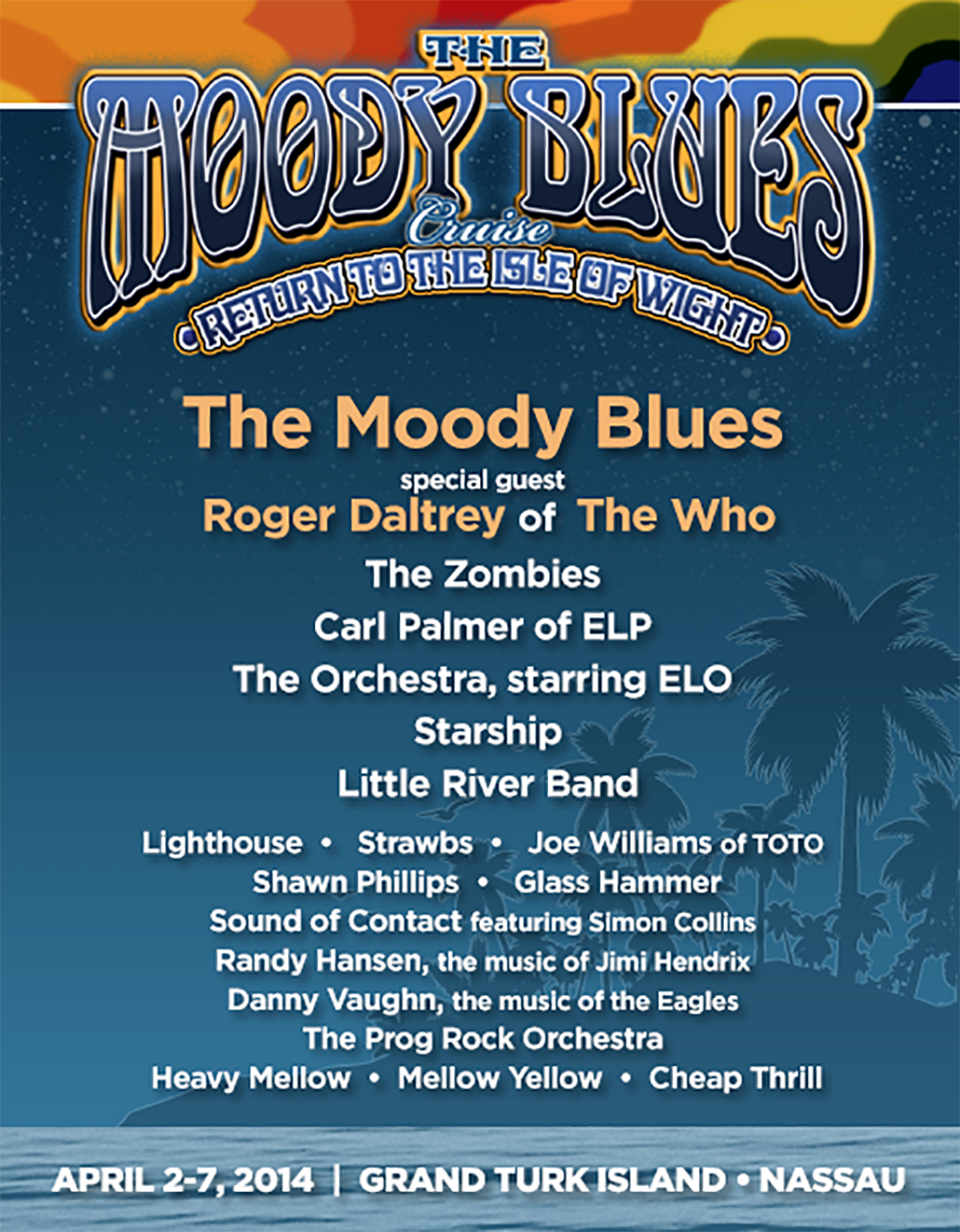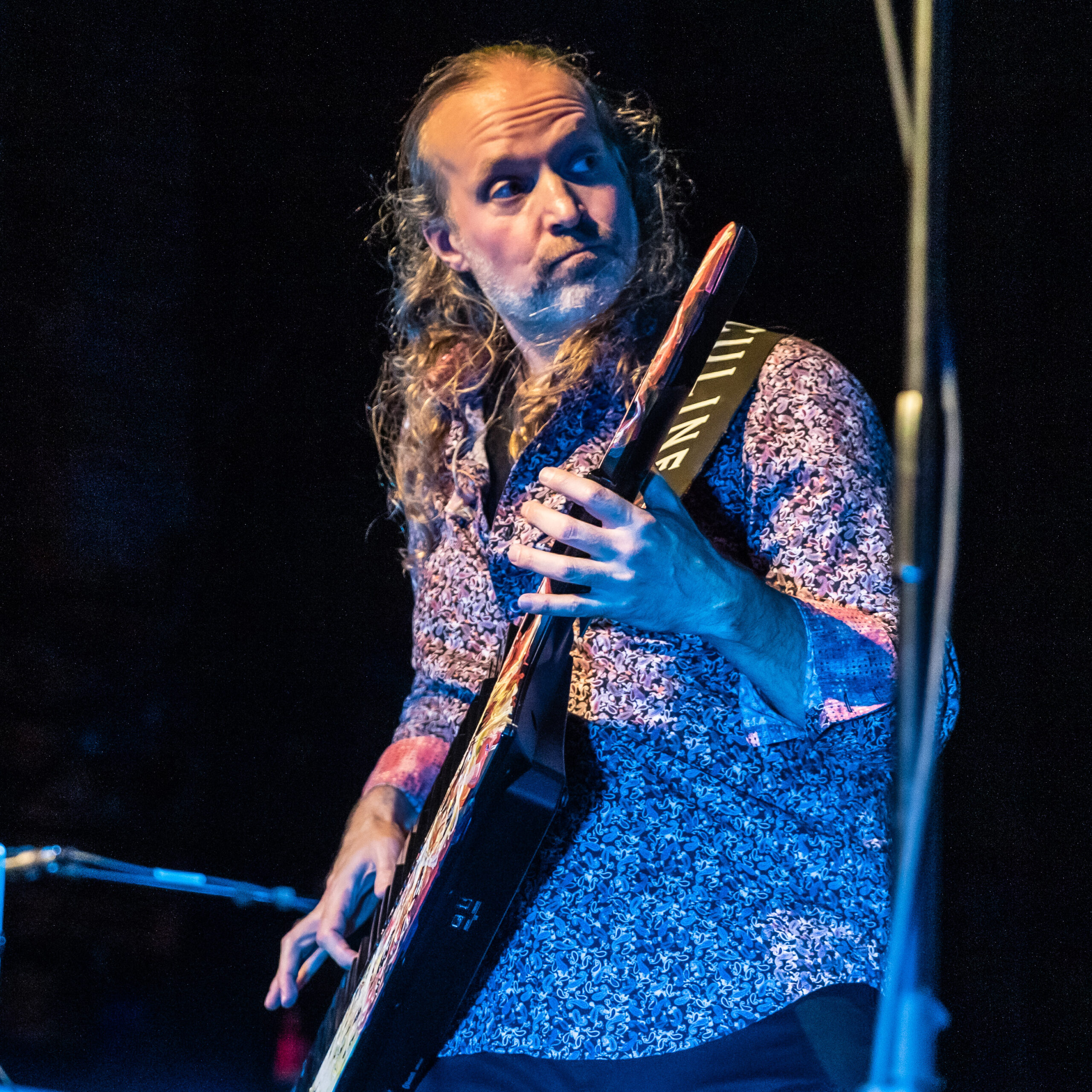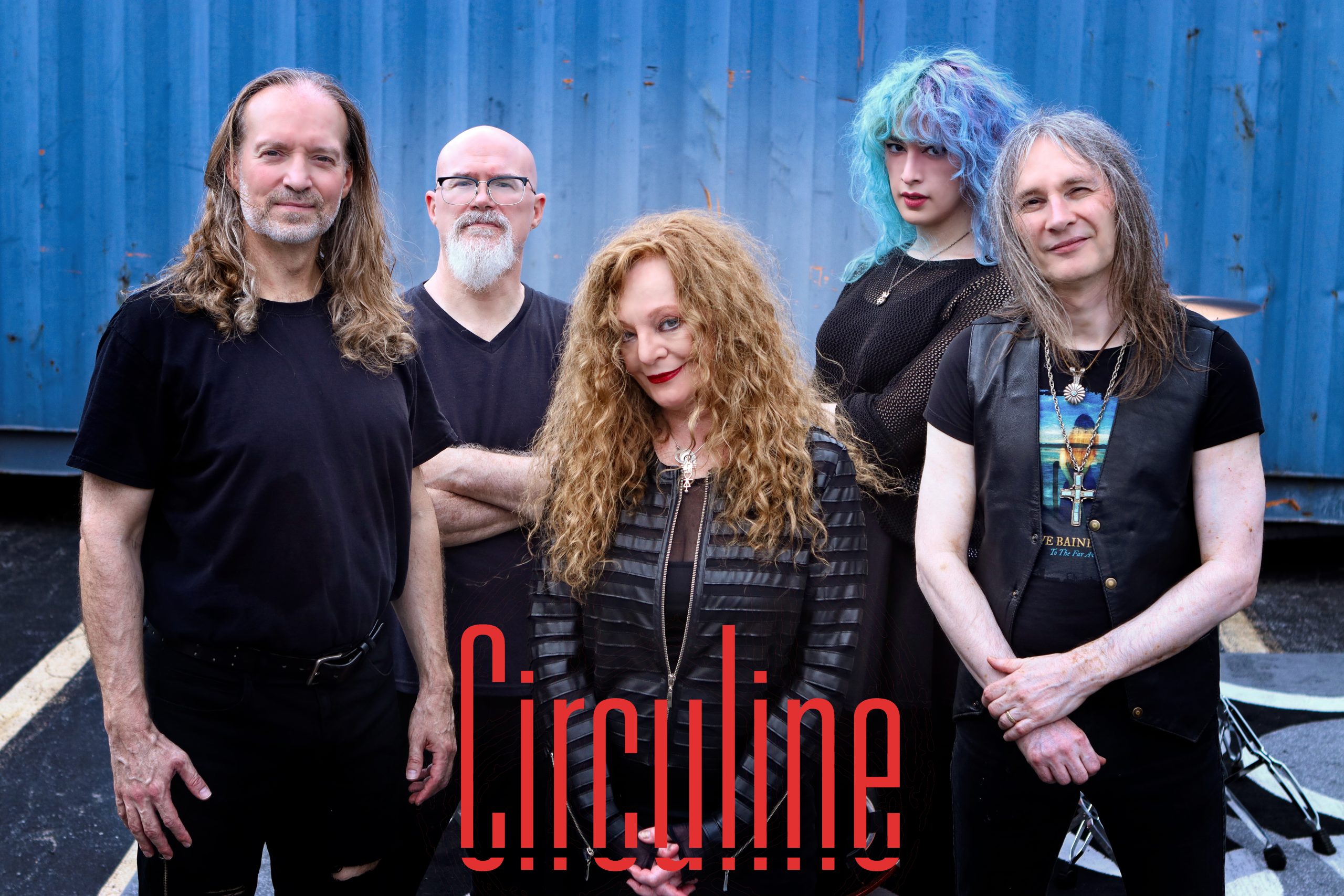 Prog ensemble Circuline are excited to announce a new lineup! Keyboardist/vocalist Andrew Colyer (Robert Berry's 3.2 Band, The Tubes), drummer Darin Brannon (Downing Grey, Surface Tension), and lead vocalist Natalie Brown (Evita, Rocky Horror Picture Show) welcome new band members Shelby Logan Warne (Kyros) on bass and vocals, and Dave Bainbridge on guitars (Strawbs, IONA, Lifesigns).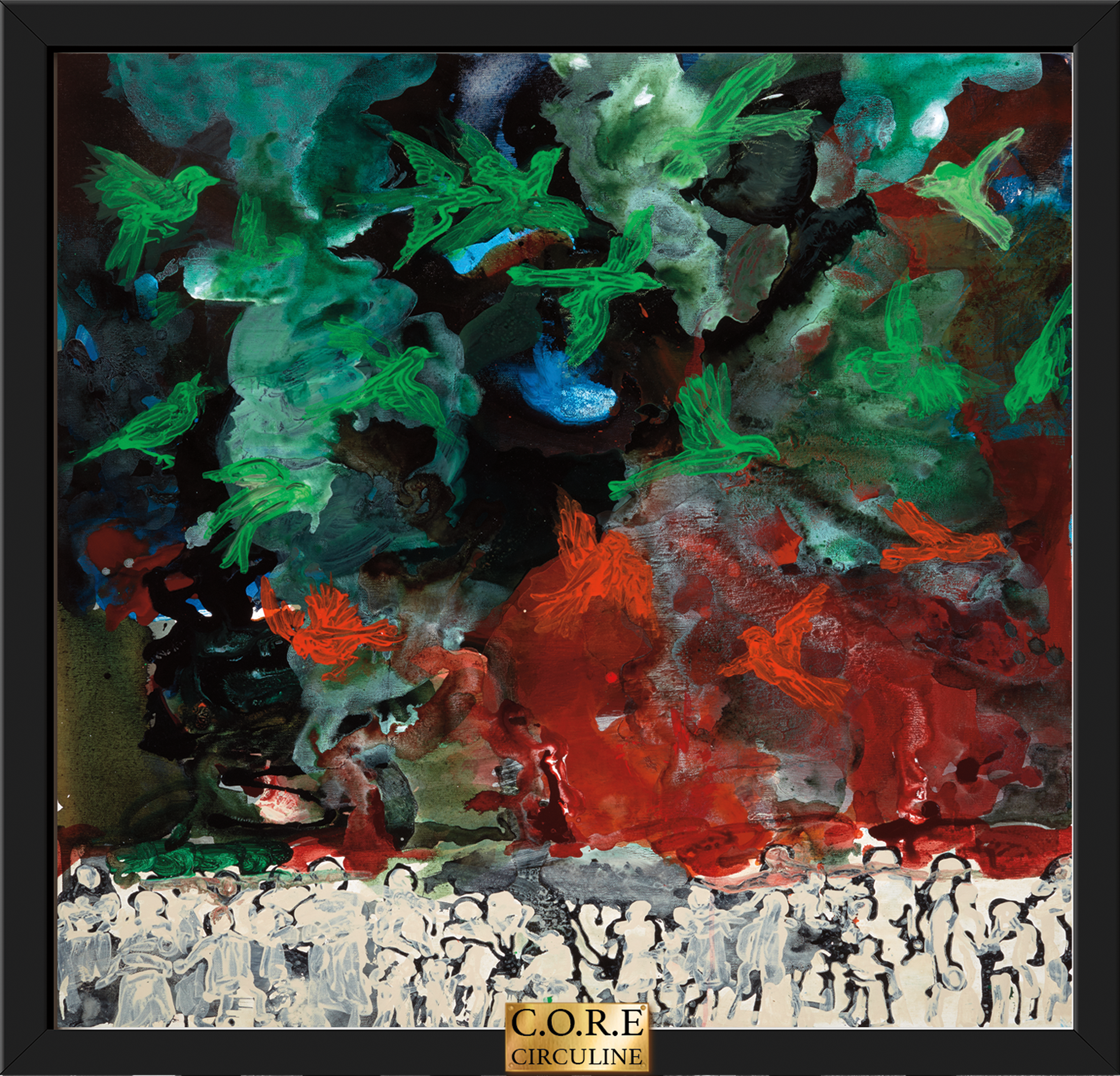 Six years in the making, Circuline's new album "C.O.R.E.", released on the Inner Nova Music label, will be available as an album of eight tracks available in a gatefold digipak CD, with an eight-page booklet of lyrics and liner notes. The album will be released on Friday, September 20th, 2024.
This album explores themes in romantic relationships, surviving abuse, finding one's own personal power, and the turbulent times in which we live. Where does the album title come from? Collectively, we've all lived through a unique time in history, and the band has had quite a few personnel changes, which are discussed in the new "Behind the Scenes" Album Launch video. We are Circuline. We are Original. We are Reimagined. We are Evolving. We are the "C.O.R.E.".
Says Andrew, "Written and recorded between 2018 and 2023, for this album we really wanted to keep all of the writing "in-house" within the band. So, the majority of the material was written by myself, Darin, and Natalie. Billy Spillane had input into almost every song before he decided it was time to move on.  Two of the songs were co-written with Matt Dorsey, who is still a good friend and colleague of ours – I'm performing with his band at the International ProgStock Festival this year. Alek Darson had invaluable input during the writing and arranging stages. Shelby and Dave brought new perspectives and their own unique artistry to these songs, and we couldn't be happier with the result. The icing on the cake is to have our good friend Joe Deninzon (Kansas, Stratospheerius) as a Guest Artist for some killer electric violin parts!"
Watch Circuline's "C.O.R.E." Album Launch Video: https://www.youtube.com/watch?v=_ckt6SKkIoM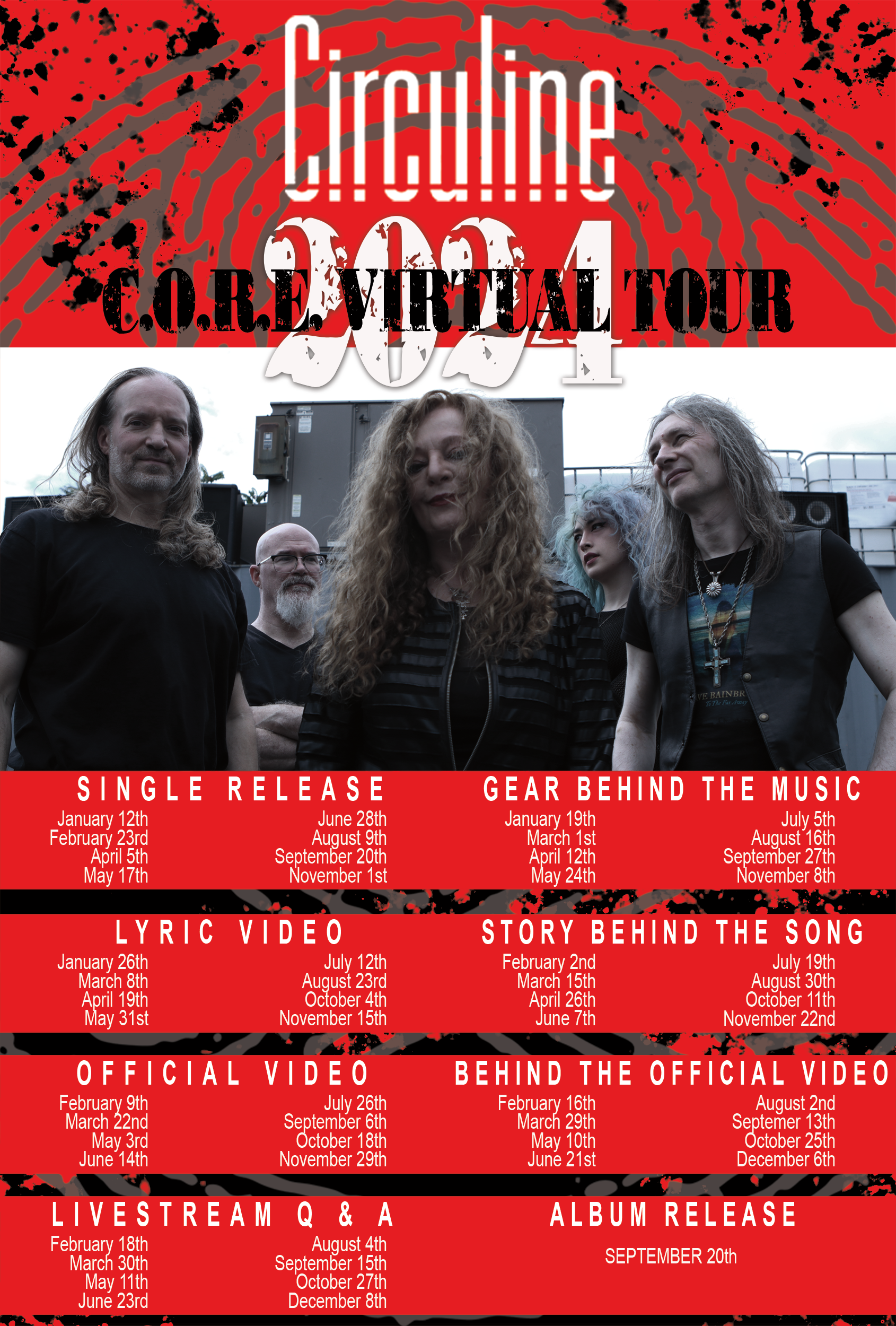 The 2024 "C.O.R.E." Virtual Tour begins in January 2024, and will consist of 56 events in 48 weeks, with Single releases, Lyric videos, Official videos, "Behind the Scenes" videos, and Livestream Q&A events where the band is able to connect with their fans around the world.
Number #1 in Portugal. Top 10 in Japan. Prog-Award Nominated. Global Music Award Winning. With sales in 23 countries, modern progressive rock band Circuline's fanbase is growing daily. Circuline has toured with Glass Hammer, repeatedly co-headlined the three-day Sonic Voyage Festival, and toured England opening for IO Earth. Circuline has performed at the International Rites of Spring festival (RoSfest), Philadelphia's Liberty Music Fest, Chicago's Progtoberfest, New Jersey's ProgStock, and England's Harmonix Festival.
In closing Andrew has this to say to the band's listeners, "We are all part of the human condition on this planet. We all have to find a way to coexist. From a band perspective, just keep going!  Never give up. When there's a goal you want to accomplish for your life, only seriously consider the opinions of people who have actually accomplished what it is that you want to do."
Track Listing
1.) Tempus Horribilis (6:22) – out of the gate, a proggy epic about the turbulent times we've been living in…..
2.) Third Rail (4:20) – a short-form song about the hazardous topics in relationships…..
3.) Say Their Name (6:18) – think "Steven Wilson meets Pierre Moerlin's Gong"…..
4.) All (7:54) – co-written with Matt Dorsey, it's a prog epic in 9…..
5.) Temporal Thing (5:51) – a song about the ambivalence that can present in long-term relationships…..
6.) You (6:22) – dark, man…..
7.) Blindside (6:08) – co-written with Matt Dorsey, it's your power ballad anthem…..
8.) Transmission Error (9:23) – another song about relationships, "finding yourself", or space creatures.  We still can't decide.  It's your 10-minute prog epic to close the album!
Recorded at:
The Cave, Red Hook, New York.  Engineered by Andrew Colyer.
Old Street Studios, London, England.  Engineered by Shelby Logan Warne
Open Sky Studios.  Baltimore, Maryland.  Engineered by Dave Bainbridge.
Joe's Place.  Kansas Touring Rig.  Engineered by Joe Deninzon.
Mixed by Billboard-charting veteran producer Robert Berry (Keith Emerson, Carl Palmer, Steve Howe, Geoff Downes, John Wetton, Jordan Rudess, Ambrosia, Sammy Hagar, December People, 3.2 band, Six by Six band) at Soundtek Studios in Campbell, California.
Artwork – The album cover was painted by 98-year-old New York artist-activist-actor Henrietta Mantooth Bagley.  Band photography by Chris Nostrand and Don Chaffin.  Graphic design and packaging by Darin Brannon.
To pre-order:www.CirculineCORE.com
For more information:
Website: https://circulinemusic.com/
Facebook: https://www.facebook.com/CirculineMusic
Instagram: https://www.instagram.com/circulinemusic/
Twitter: https://twitter.com/circulinemusic
YouTube: https://www.youtube.com/c/CirculineProgRock
Press Inquiries: Glass Onyon PR, PH: 1-828-350-8158, glassonyonpr@gmail.com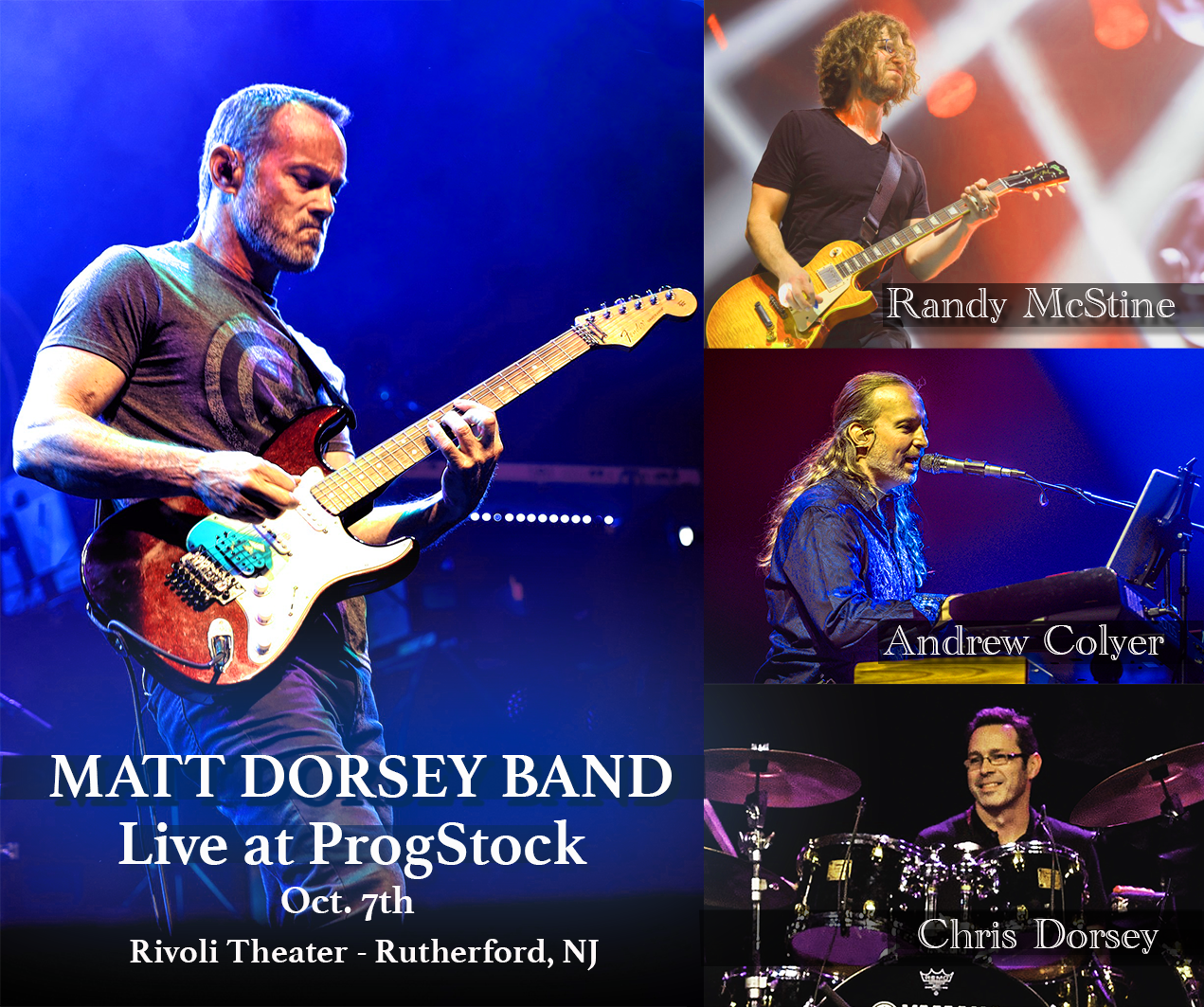 Andrew Colyer will be performing with the Matt Dorsey Band for the 2023 international ProgStock Festival!  Sharing the Rivoli Theater stage at the Williams Center in Rutherford, New Jersey, are Chris Dorsey (drums, vocals), Randy McStine (Porcupine Tree, Lo-Fi Resistance, The Fringe), and bandleader Matt Dorsey (Beth Hart, Sound of Contact, In Continuum, Dave Kerzner Band).  We'll be performing Matt's new solo album, Let Go, as well as some special cover songs by Peter Gabriel and others!
Here's some more information about ProgStock this year:
ProgStock Festival 2023 will take place October 6 – 8, 2023 in its new home at the Williams Center in Rutherford, NJ.
Current Festival Schedule (subject to change):
Friday, October 6, 2023
In Bob Moog Foundation Plaza (just outside the Atrium)
• 11:30am (and all day) – Music Jam with Robeone
In the Cinema (exclusively for 5-Year Patrons and Prog-Ducers)
• 1:30pm – An Unbelievable Experience with Patrick Moraz
In the Rivoli Theater (doors @ 4:00pm)
• 5:00pm – AD ASTRA, followed by Travis Larson Band
• 9:00pm – The Mahavishnu Project
In the Black Box (after each theater performance)
• Meet & Greet with the artists
Saturday, October 7, 2023
In Bob Moog Foundation Plaza (just outside the Atrium)
• 10:00am – New Album Party with Mile Marker Zero
• 11:30am (and all day) – Music Jam with Robeone
In the Rivoli Theater (doors @ 11:30am)
• 12:30pm – Aziola Cry
• 4:00pm – Randy McStine followed by Matt Dorsey Band
• 8:00pm – Rachel Flowers followed by Dave Kerzner Band, including a 10th Anniversary celebration of Sound of Contact's Dimensionaut
In the Black Box (after each theater performance)
• Meet & Greet with the artists
Sunday, October 8, 2023
In Bob Moog Foundation Plaza (just outside the Atrium)
• 10:00am – Listening Party and Meet & Greet with Space Junk Is Forever
• 11:30am (and all day) – Music Jam with Robeone
In the Rivoli Theater (doors @ 11:30am)
• 12:30pm – Dave Bainbridge & Sally Minnear
• 4:00pm – Mystery
• 8:00pm – Patrick Moraz followed by Unitopia
In the Black Box (after each theater performance)
• Meet & Greet with the artists
In addition to his special performance during the festival, Patrick Moraz will be providing an exclusive treat for our 5-Year Patrons and Prog-Ducers!
On Friday, October 6, at 1:30pm (before the festival begins), Patrick Moraz will be in one of the movie theaters located on the lower floor of the Williams Center, where we will show a video he has selected for your enjoyment on the big screen and he will participate in a special interview.
This special presentation will be included with all 5-Year Patron and Prog-Ducer passes, as an added incentive to support the festival.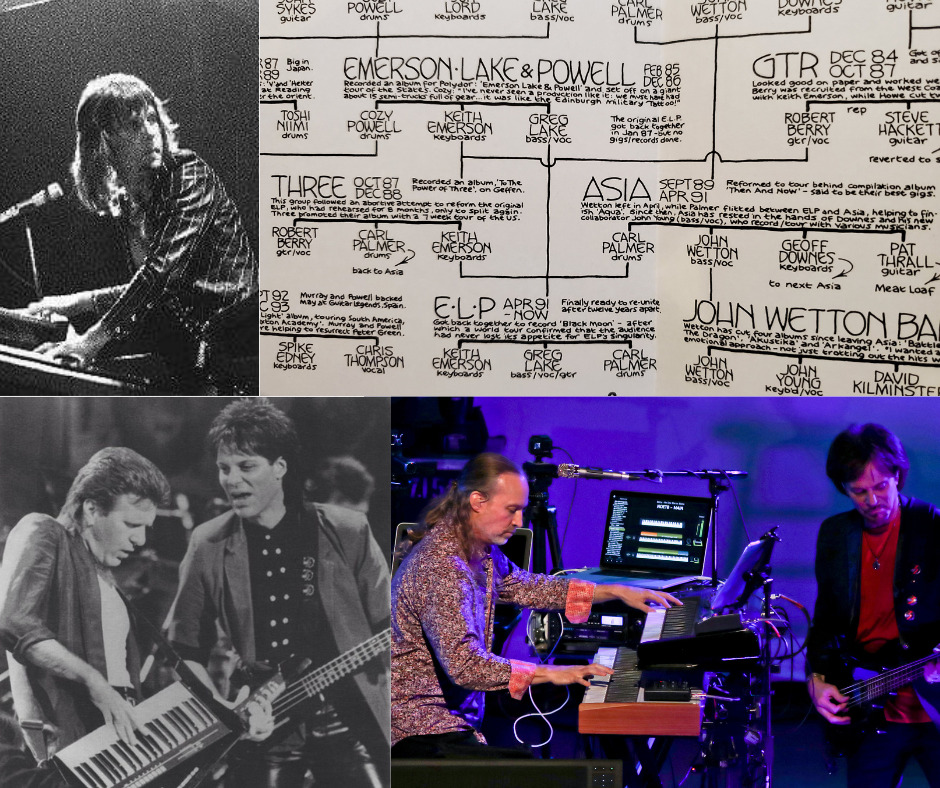 I have had a different relationship with Keith Emerson from anyone else who ever knew him. That is because I didn't know him, yet I got to know him intimately through performing his works. Robert Berry was the last person to work directly with Keith before he died, and was working on what was to be two posthumous Billboard-charting albums of their collaborative work. Following Keith's passing, it took two years of grief and legal handling to get the first of those two albums released to the public. When it came time to tour the albums, of all the people he could have called, Robert Berry drafted me to cover or fill in for Keith since he was not available.
I immediately read Keith's autobiography, "Pictures of an Exhibitionist", and began consuming every piece of Keith Emerson, ELP, and "3" content I could find. I felt like I really needed to "get in character" to do the job justice.
Being asked to cover Keith Emerson? The King of the Keyboards? The guy voted by nearly every magazine readers and editors poll to be the greatest player in the history of Rock Keyboards? Sure, no pressure there. This one definitely takes the cake in terms of musical life challenges.
I cannot begin to describe the complicated feelings of excitement, anxiety, and pressure that I felt before and during the first tour.
Between the reading, watching, listening, transcribing, practicing, performing live, and speaking to so many of you in person about your personal experiences with Keith and the profound effects that he had on you and the rest of the musical world, I definitely had a "total immersion experience" into Keith's life and work, and I was incredibly humbled by it. I feel like I came to know a person I never met. Especially through the stories that Robert and Paul Keller shared, from working directly with Keith.
It is still weird and surreal for me to look at the Pete Frame Rock Family Tree and see Keith Emerson and Robert Berry (who is also shown replacing Steve Hackett in GTR), and know that due to tragedy and some bizarre luck, I am now connected here. Sad for the world, and life-changing for me. I've done my best to honor the great man who came before me, and oddly felt like I've been walking on the same beach where the ocean has washed away a pair of shoes that are impossible to fill.
Loretta Lynn said that you have to be first, you have to be different, or you have to be great. Keith Emerson was all three. Which is why he will always be remembered as the King.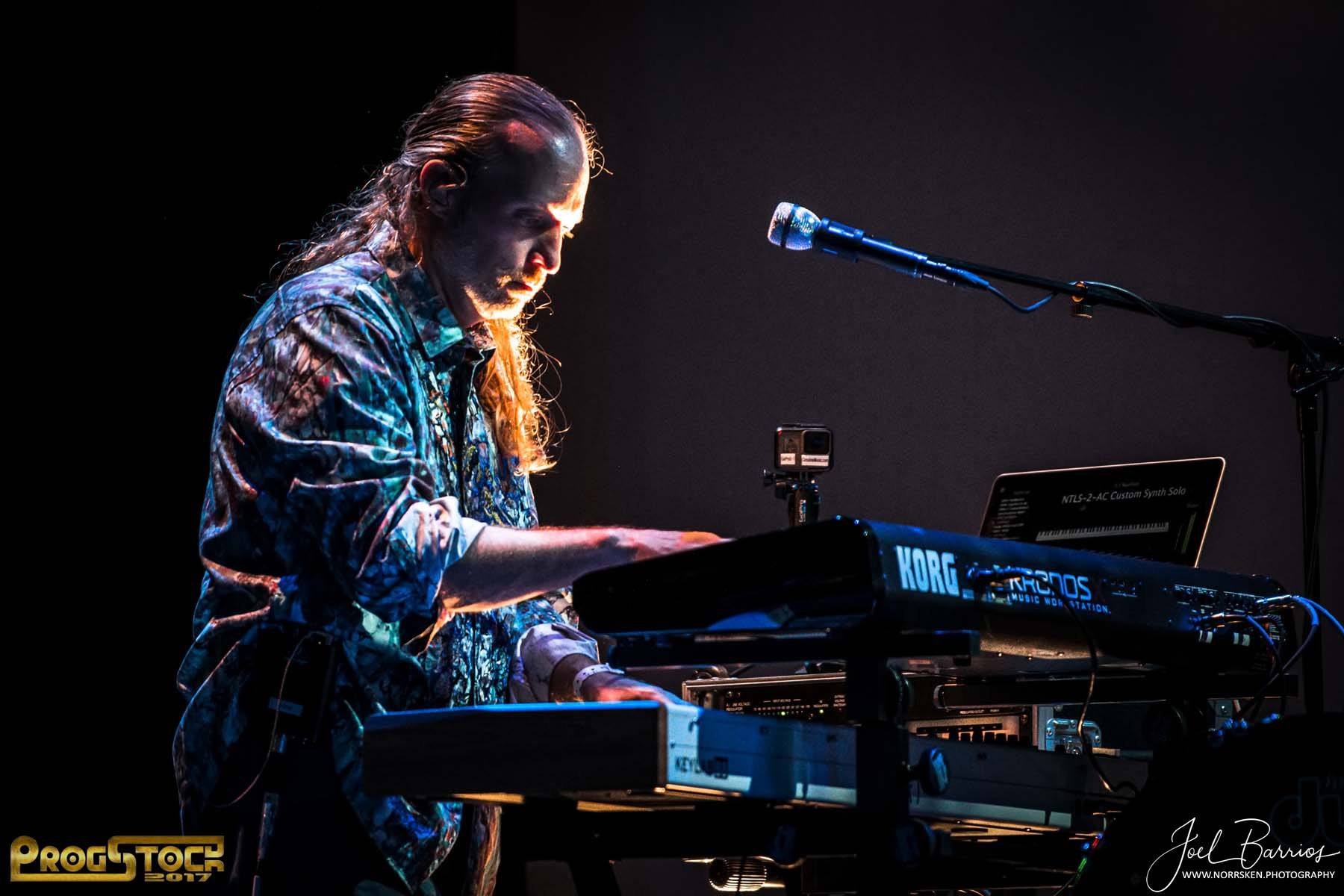 Online Shop
EXCLUSIVE MERCH
Show your love and support and browse AC's exclusive merch!