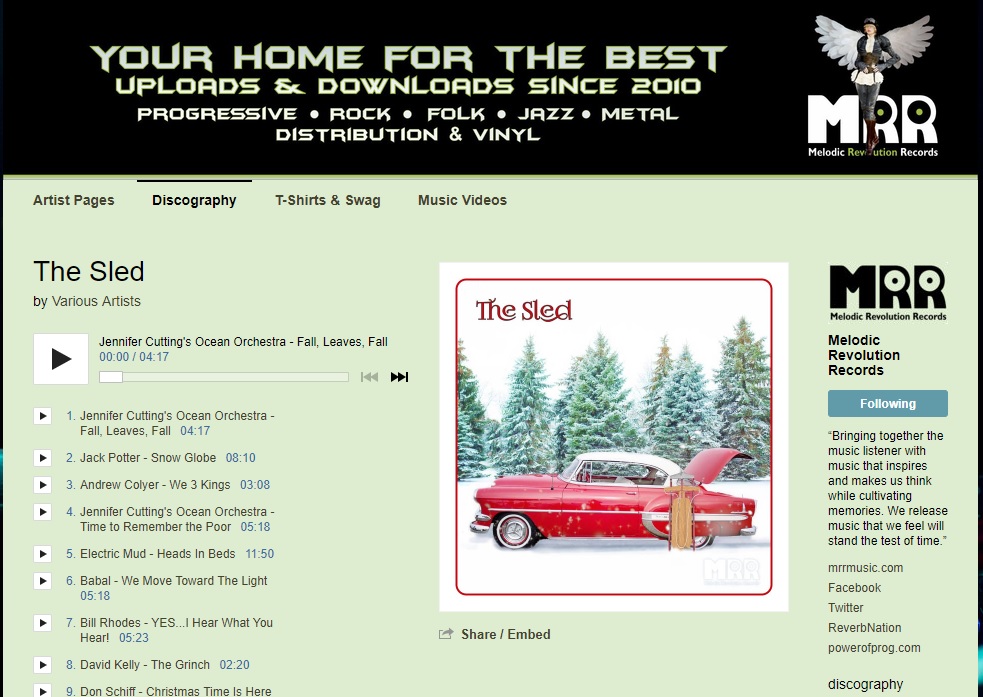 Thank you so much to Nick Katona, for allowing Andrew Colyer to contribute the track "We 3 Kings…in 5" from the new album Christmas Time to this year's Melodic Revolution Records Holiday Charity Album, The Sled.   Nick Katona founded Melodic Revolution Records in 2004.
The 2018 Melodic Revolution Charity Release will be entitled The Sled. You cannot purchase this album with Dollars, Pounds or Euros – something this valuable requires a giving heart. To receive your copy as a gift from MRR and with the kind permission of all of our contributing artists, MRR asks you to commit a great act of kindness.
Please contact MRR through their Bandcamp page or the MRR Website Contact Page – proof of you donating to your local charity of choice, it can be your time, or tangible goods such as blankets, food or clothing. Think outside of the box, donate your time at the local food bank, soup kitchen or shelter. Certainly, the hospitals would be grateful for volunteers or donate blood today and save a life.
MRR would like to promote the good deeds of great citizens and with your permission, they will share your photos on their page set up this holiday season to spread the good news.
The Sled will be released digitally on Monday, December 3, 2018 and we will stream it free through the end of January 2019.
Each year MRR hosts a holiday release to showcase many bands and artists that you may not be aware of; but should be. The album will feature many styles of holiday music and original music; all of which will touch your heart and soul. May it inspire you – for in giving, we receive so much more.